Thoughts on the establishment
Last May, I lost my beloved daughter, Hana
Family, friends, friend of friends, players, officials, and including fans
There are so many people feeling sadness and mourning.
It was reported a lot in the news
I don't want to erase the truth about Hana.
From the desire to clarify responsibility
I received as many interviews as my physical condition allowed
I had a member of the Diet listen to me
The law will change little by little

Even so, it doesn't change in SNS immediately
I see cyberbullying
Unchanging sight
When I see it, I feel the sadness, suffering, and helplessness of losing Hana.

Lose Hana
In the feeling that my heart was lost at the same time
When I thought there was something I could do for Hana at least

Don't let this happen again
To speak up about various problems thoughts

To get closer to the gentle world that Hana has hoped for
I decided to move with all my strength
It's also the reason for my life

As one of them
To reduce the number of victims and perpetrators of slander
I would like to carry out various educational activities with this goal in mind

Also, by soliciting donations from everyone around the world
Who have an interest in issues on SNS
I believe the activity will be more broad and meaningful

I hope you can convey this feeling meaningfully to everyone.

The Internet has become an indispensable tool in our daily lives,
but due to its rapid development, people who cannot see their faces on SNS, etc.
Speak badly and hurt the honor and emotions of others.
Privacy infringement that exposes personal information and personal life has become a serious social problem.

Therefore, "I want to aim for a friendly world where as many people as possible can use the Internet
with a smile without becoming victims or perpetrators." We have been conducting educational activities such as.

In the future, we will further expand the above activities and create useful teaching materials for SNS education,
as well as perpetrators of children, students and students at educational institutions such as elementary schools,
junior high schools, high schools and universities nationwide.
We will continue to provide SNS education so that you will not be a victim.
In addition, in order to relieve the victims of SNS, which is becoming more serious,
we would like to proactively appeal to the government for the relief of "slandering victims on the Internet."
Support from the government and general companies, and the participation and support of the general public are indispensable for such activities. In order to receive further support and support in the future, we believe that it is necessary to acquire a legal personality with higher public interest and reliability, and we have decided to establish a specified non-profit organization.

We appreciate your understanding and cooperation.

Future activities planned
1. SNS education enlightenment promotion business
2. Goods sales business related to SNS education and enlightenment
3. SNS education program development business
4. SNS education consultation / support business
5. SNS education related book publishing business
6. Research and research on human rights issues, policy proposals, and projects for their realization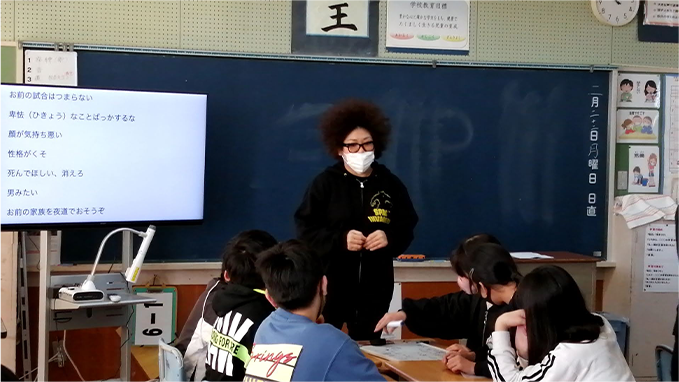 February 22, 2021, Tomisato Minami Elementary School, Chiba Prefecture, 6th grade, 1st group, 2nd group by Professor Seiji Furuya.
A class "Thinking about slander" was held. Kyoko Kimura participated as a guest. She talked about an episode of slander that she suffered during her professional wrestler days and discussed this issue with her children.